Roofing References from Our Happy Clients
Whatever your Budget or Building needs are, Our Expert Roofers may help!
The WeatherShield Roofing Group has been servicing roofing systems in Central Florida since 1995! Our customers and local roofing references attest to our high-quality and leading industry knowledge of the best roofing systems. Our expertise spans from small jobs, such as coating delivery trucks for Wayne Densch Distributors (Busch Beer), to huge projects coverings thousands of square feet at Fiskars, Manheim Auto Auctions, and Osceola and Seminole County Schools.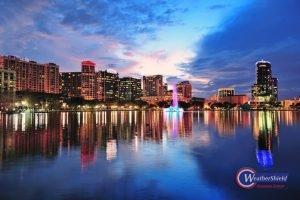 Our exceptional metal roofing work protects mechanical businesses and highly technical manufacturing plants alike, from Prater Radiator to Hill Dermaceuticals. We successfully installed rust proof tanks for Fortune Plastics, and have insulated duct work for Walt Disney World. Our talents extend to preserving historical buildings, such as the the Sanford Masonic Lodge, and refurbishing walls for W.W. Grainger. Small storage containers, busy automobile dealerships such as Bill Ray Nissan, TPO work for nonprofit businesses, and church remodeling for large and small congregations alike – we are pleased to say that every one of our customers to date can be used as roofing references! Give us a call at (407) 298-0100 and find out why our roofing references in Longwood and Orlando, FL speak so highly of us. Here are a number of our recognizable customers.
Call (407) 298-0100 today for more information about roofing references from Longwood and Orlando, FL and the surrounding area!