Metal Roof Repair in Orlando
TOP REASONS WHY YOU NEED PROFESSIONAL METAL ROOF REPAIR IN ORLANDO
Metal roofs were once mainly used for commercial projects, but today, they have transformed into the fastest growing roofing materials for both residential and commercial purposes in the United States.
The veritable popularity of metal roofing is not unfounded, as it comes with several pros such as longevity, lightweight, easy handling, energy efficiency, and robust shedding against rain and snow.
Unfortunately, metal roofs can also break down despite their long list of merits and thus need regular care and maintenance. Although the first instinct might be to grab some tools and begin repairing the metal roof of your residency all by yourself, such a move can do more harm than good.
You should be aware that the roofing job, especially repair, is unlike other ordinary jobs that you can nip and tuck at home. Metal roofing and repair mandate a specific level of experience and specialization, and thus, calling a professional is the safest bet. If you are yet in two minds about ringing up a professional Metal Roof Repair in Orlando, let us clear the air for you.
1. Insightful Advice
Hiring a professional metal roof repair service means that you can rest assured they you will receive invaluable insights on keeping your precious metal roof hale and healthy for more extended periods. The guidance is invaluable as repairing and maintaining a metal roof is a massive monetary investment. Thus, the culmination is that your roof will last even longer, and you will know how to protect them.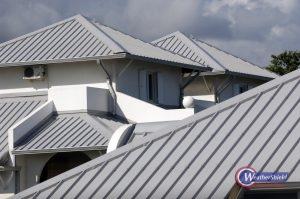 2. Excellent Safety Standards
Even the highest quality metal roofs require professional intervention. If you have purchased a top-notch for your abode, which now needs reparation, then calling a competent service is the best path. Specific metal roofs have different requirements, which only professionals can look into and handle. Likewise, professionals also meet the warranty standards of metal roofs during the repair. Therefore, it is a win-win situation.
3. Protection of Your Property
A professional metal roof repairing company ensures that your home is safe and protected. They will examine all the possible fallacies on your roof and ensure that your home's safety is not compromised due to a faulty crack or crevice on the roof. Consequently, a professional agency of Metal Roof Repair in Orlando will also explain to you what precautions to take in the future for minimal damage to the metal roof.
4. Dodging Hazards
The nature of metal roof repair is that amateur handling of the task can lead to accidents and mishaps. Even experts meet with accidents while repairing a roof. Thus, it is crucial to take the help of insurance professionals so that expenses related to accidents and other hazards are taken care of.
In conclusion, there is no alternative to professional metal roofing services. If you are looking for metal roof repair in Orlando, Weroofrepair should be your one-stop destination. With 25+ years of roofing experience in the Orlando region, their services are characterized by quality, affordability, and personalization. Weroofrepair.com offers both commercial and residential Metal Roof Repair in Orlando so that you can choose a service that speaks to your particular needs.